RESURRECTING MANSFIELD'S SLAVE CHAPEL
March 15, 2006 – Mansfield Plantation is committed to the preservation of our distinct history. We believe that the structural enhancements to the slave chapel will help prolong the life of this beautiful church indefinitely so that generations from now, people will still be able to step back in time as they walk through an authentic, antebellum slave chapel.

The work on the Mansfield Chapel is being done by Tommy Graham of T. W. Graham Restorations of McClellanville, SC, under the direction of an Outbuilding Preservation Plan developed by Glenn Keyes Architects of Charleston, SC.

360˚ Virtual Tour: New to our website! Explore the this historic South Carolina restoration project.
CHAPEL RESTORATION


After 200 years of wear and tear, the slave chapel at Mansfield Plantation was beginning to show signs of damage and decay.
From hurricanes and fires to insects and abuse, this centerpiece of Mansfield's distinct history was in need of help.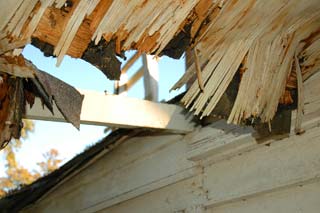 The roof was in bad shape, giving mother nature easy access to the inside.
Rot and decay were destroying the original structure from the inside out, and it was only a matter of time before the building would fail altogether.
In March of 2005, a massive project to resurrect the slave chapel was begun.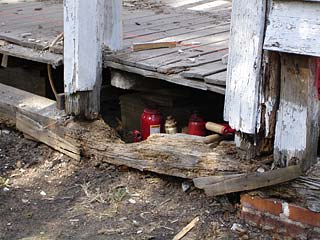 Hydraulic jacks are being used to support the foundation, so that everything salvageable can be utilized for generations to come.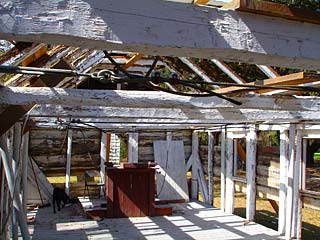 Steel cables provide additional support from the inside so that the walls do not collapse.
Elaborate beams, trusses and scaffolding is also in place for maximum protection.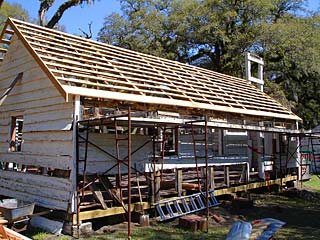 The new roof beams are now in place. Soon, an authentic cedar shake roof will once again provide shelter for this amazing slice of American history.
Applying the cedar shakes to the roof.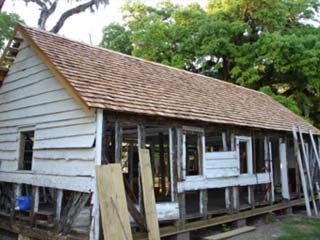 A brand new cedar shake roof should last another 200 years, just like the original.
Carpenters build the frame for the steeple.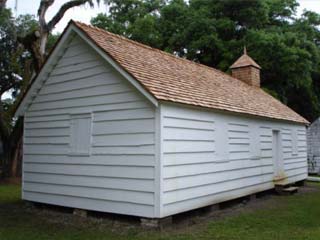 The whitewashed walls are back to their original glory!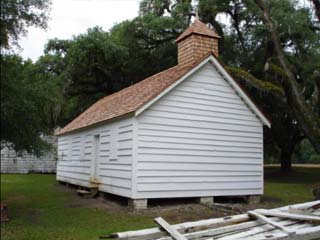 All that is left is reassembling the original bell tower.

Come back soon to see more progress,
and come see us at the Mansfield Plantation Bed & Breakfast!

We appreciate your interest in the preservation of Mansfield Plantation. The Dr. Francis S. and Mary L. Parker Foundation is established and a recognized 501(c)3 non-profit corporation. To make a donation to this noble cause, please send your check to:

The Dr. Francis S. and Mary L. Parker Foundation, Inc.
c/o Mansfield Plantation
1776 Mansfield Road
Georgetown, SC 29440

or call 843-546-6961 (toll-free 866-717-1776) and ask to speak with Kathryn Green.
---
New Photocard® prints available in our online store!
Email them to frends or frame your favorite Mansfield scenes!

| | |
| --- | --- |
| 20% of this purchase is donated to the Francis & Mary Parker Foundation. | |